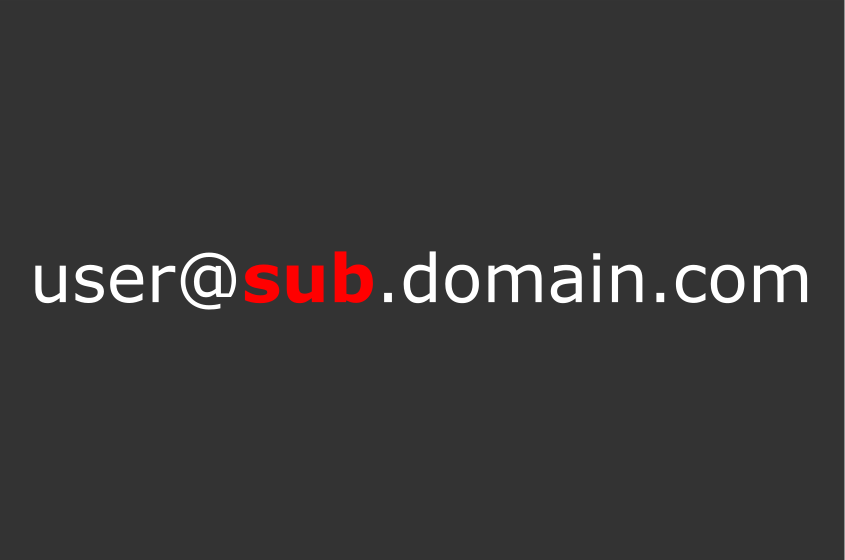 An email address like [email protected] always consists of two parts:
A subdomain is an additional part of your root domain. It can be added to your main domain as a prefix like username@sub.domain.com.
Although a subdomain is related to your root domain, it has a separate identity. Because of this, Internet Service Providers and mail servers treat your subdomain differently than your root domain.
Email service providers like Google, Yahoo, Outlook, etc. assign a sender reputation to any domain. If you're sending the wrong signals (e.g. your emails are marked as spam by users, show low engagement, etc.) it can damage your sender reputation.
The lower your sender reputation the more you will experience email deliverability issues. ISPs and email providers start bouncing or downgrading to spam your emails because the behavior of your domain doesn't meet their standards.
If this happens to your root domain it is very difficult to improve it. Changing your root sender domain isn't an option. 
It's a lot easier to manage your reputation using subdomains! If a subdomain ends up with bad reputation, you can easily switch to a new subdomain while still having a clean root domain.
This way you can protect your root domain from reputation problems and ensure that your emails for everyday business emails that you personally send always arrive in mailboxes.
For marketing emails s, transactional emails (orders, password resets, etc.), it's always a good idea to use an email subdomain!
Thus you should have at least one email subdomain to protect the reputation of your root domain.
Scenarios  to use email subdomains
Promotional Emails: Subscribers may mark your emails as spam if they are not satisfied with the volume of your promotional emails or are simply not interested in your promotions.
Public Relations and PR: Your emails to other companies for partnership opportunities may not enjoy the same level of engagement as transactional emails. If your PR emails get a lower reputation, the deliverability of other types of messages will also be affected.
Transactional emails: These have the highest engagement rate because transactional emails are generated by a user's action (a password reset request, a payment confirmation, etc.).
Our Solution
Campation Post Office™ offers all functions to automatically distribute your emails from WordPress to up to 4 subdomains.
You simply define the email category (transactional, marketing, bulk, cold) for each plugin that sends emails from WordPress and a subdomain for each of these categories. The DNS wizard will help you set up the subdomains.
Then, as if by magic, all emails from your website are sent from appropiate subdomains, with reply addresses in the same subdomain, so that there is no connection to your root domain!
Of course, you have to set up a few email accounts for the subdomains used, so that all undeliverable emails and unsubscribed emails can be processed automatically by Campation PostOffice™.
Examples:
invoice@transaction.domain.com
contact@marketing.domain.com
news@newsletter.domain.com
info@cold.domain.com