The Most Powerful NextGen WordPress Email Plugin … Making More Profit For You!
AI powered WordPress Email Sending Technology - Much Faster Than SMTP​
Complete Email Solution As WordPress Plugin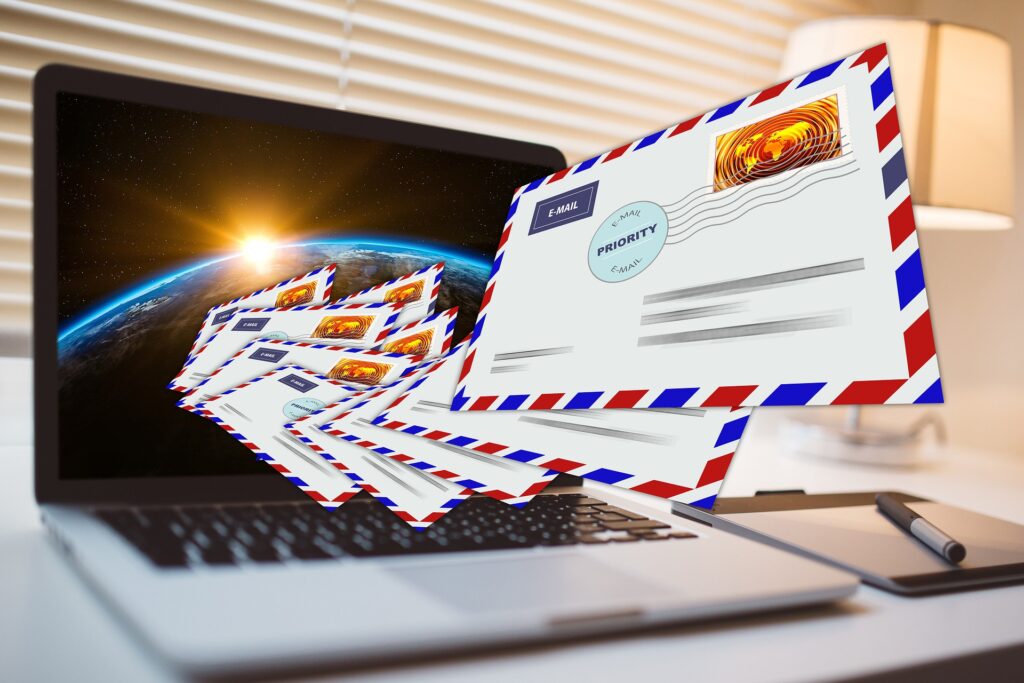 Sending email professionally requires a lot of tools – we packed them all in one single WordPress email plugin!
Fast background sending, recipient address check, statistics of bounces, spam rejects, opens, clicks, replies and conversions as well as tools to stop all email sending in case of emergency or test the setup against a sandbox – all this is included in Campation PostOffice™ and much much more!
For you and your professional relationship with your subscribers as well as for a fantastic development of your business!
Please check everything and compare Campation PostOffice™ with any other solution to send WordPress email! We do not shy away from comparison with competitors! Because we beat them all!
100% WordPress 6.3 / PHP 8.3 Compatible!
100% GDPR compliant because your subscribers' data does not leave your server!
and a 100% AJAX driven Admin Interface for quick operation
Thanks to parallel processing even 200 x faster than SMTP!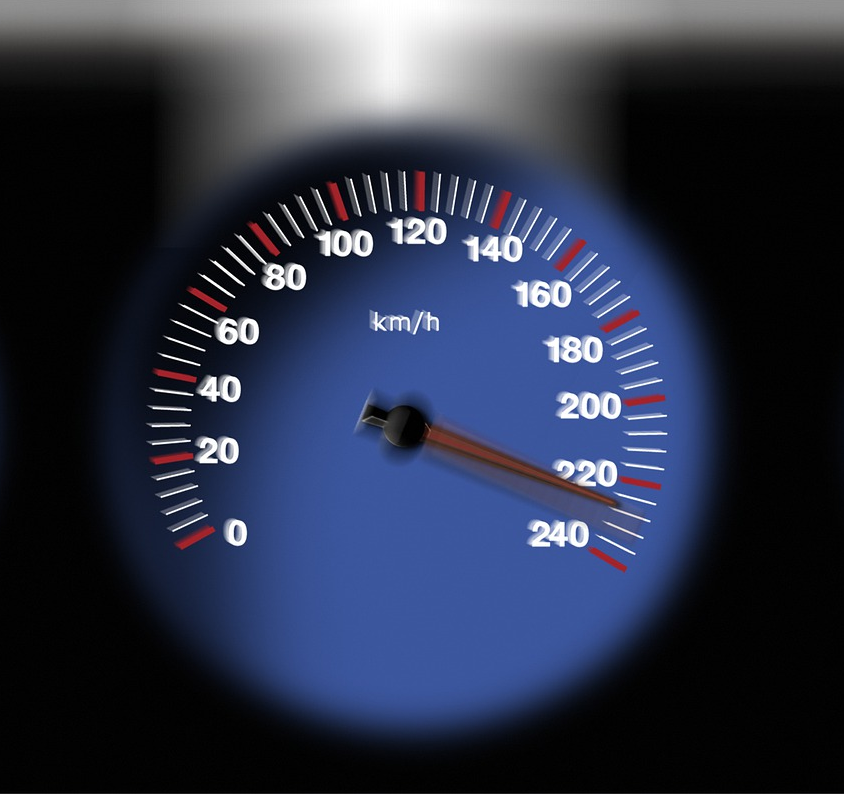 Got a big list and want to send out a limited time special offer or a "breaking news"? Then speed of mail delivery is crucial for a successful campaign!
The classical transfer of an WordPress email to a SMTP server usually takes 1 second due to the slow SMTP protocol – this allows to send 4,000 emails/hour. (Of course, Campation PostOffice™ can connect you to multiple SMTP servers, too – but that's antiquated).
Campation PostOffice™ instead comes with 3 very fast own mail servers, which can deliver 20+ emails/sec each, for use on dedicated servers / VPS as well as in web hosting.
Campation SpeedMail™ directly uses the MTA of your dedivated server or VPS. 
Campation RemoteMail™ does the same but on a remote server.
If you are on a web hosting service and could use up to now only SMTP then you will be happy about the 3rd server type, Campation DediMail™, which is your Virtual Private Mail Server in Germany with a dedicated IPv6!
All 3 servers are not shared with anybody else for a super clean IP reputation.
All emails are sent from an outgoing background queue. Sending in the background no longer slows down your website while providing an accurate log of all emails.
But that's not all!
Campation PostOffice™ also features its groundbreaking AsyncMail™ technology! This allows you to send emails in parallel processing! Appropriate hardware (dedicated server) provided, you can easily send 20+ emails in parallel which results in an hourly sending capacity of up to 1.5 million emails / hour!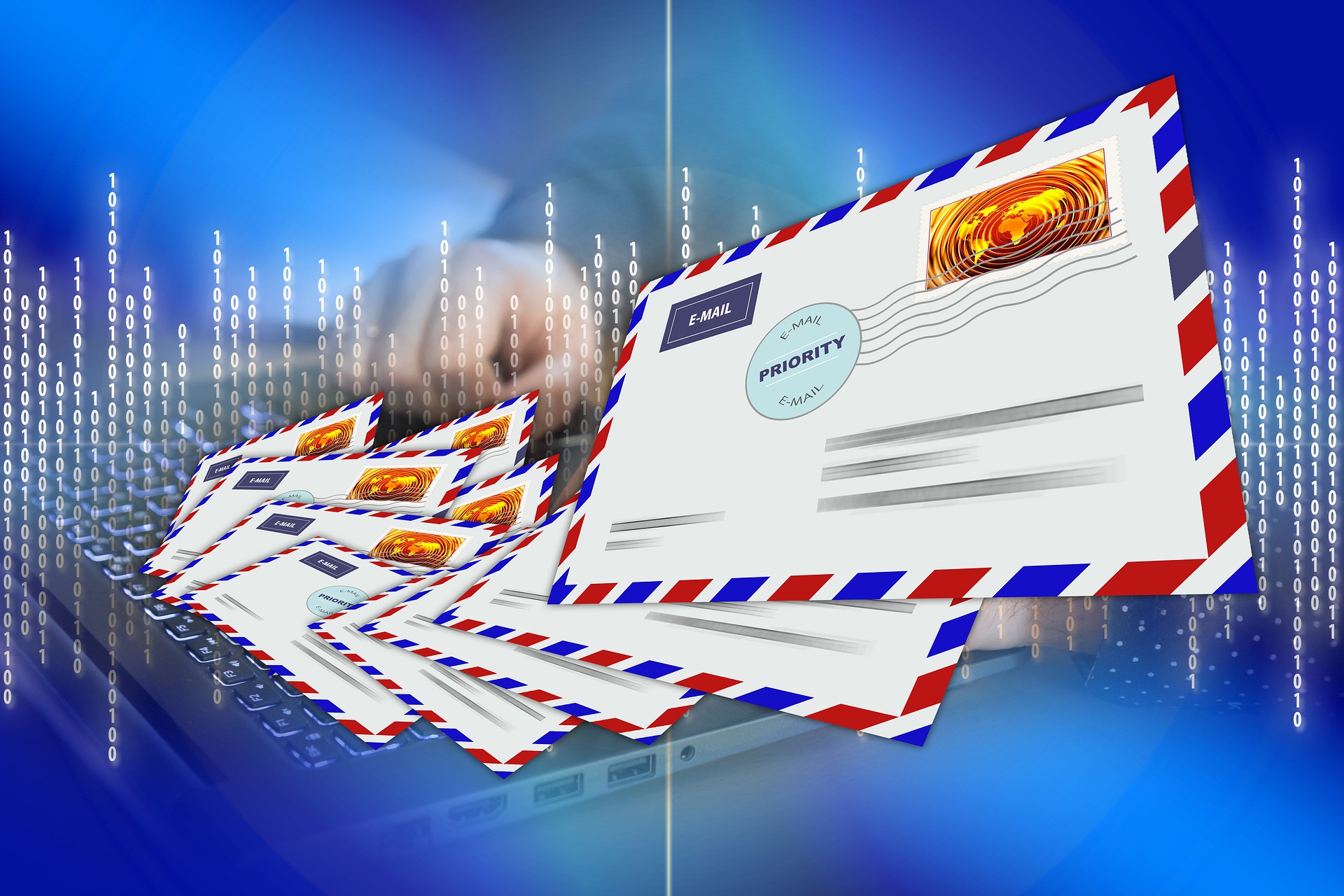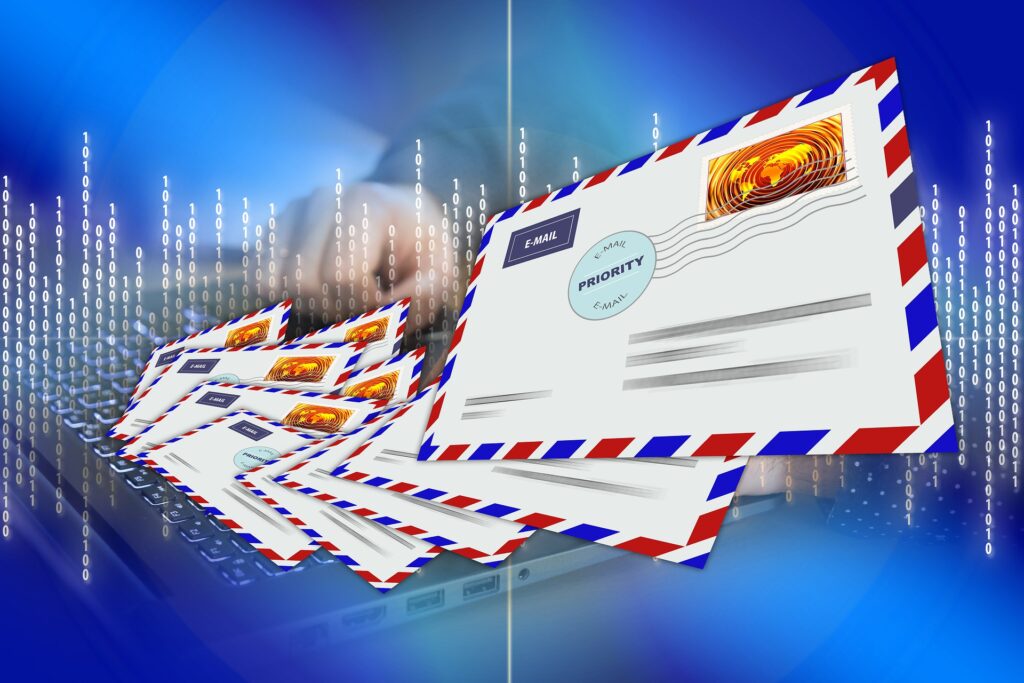 SPEED MATTERS!
Imagine You Send A Newsletter To 20,000 Subscribers
And 60 SECONDS LATER It's On The Way To All Inboxes!
Prevent Your WordPress Emails Ending Up In Spam -
As A Trusted Sender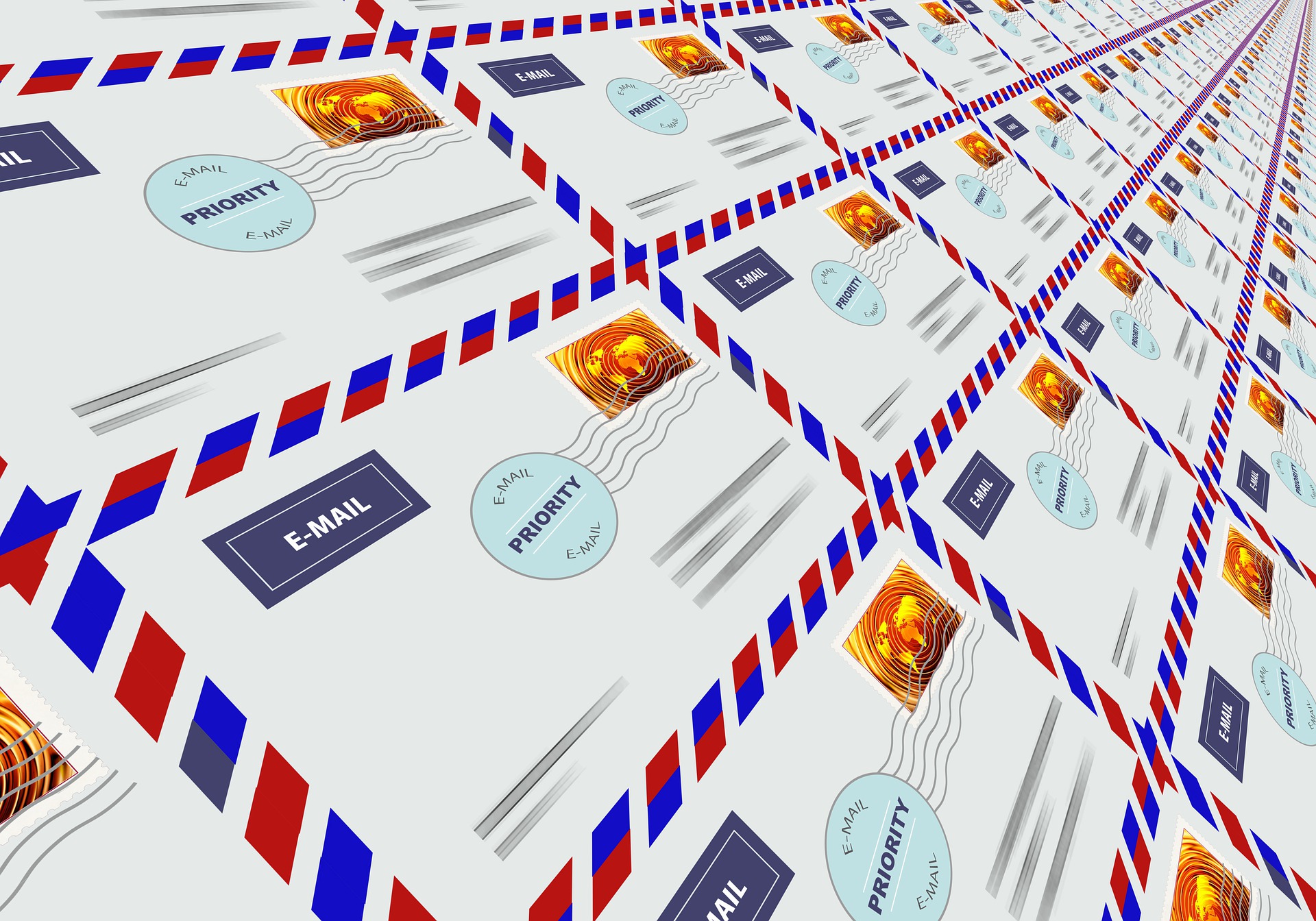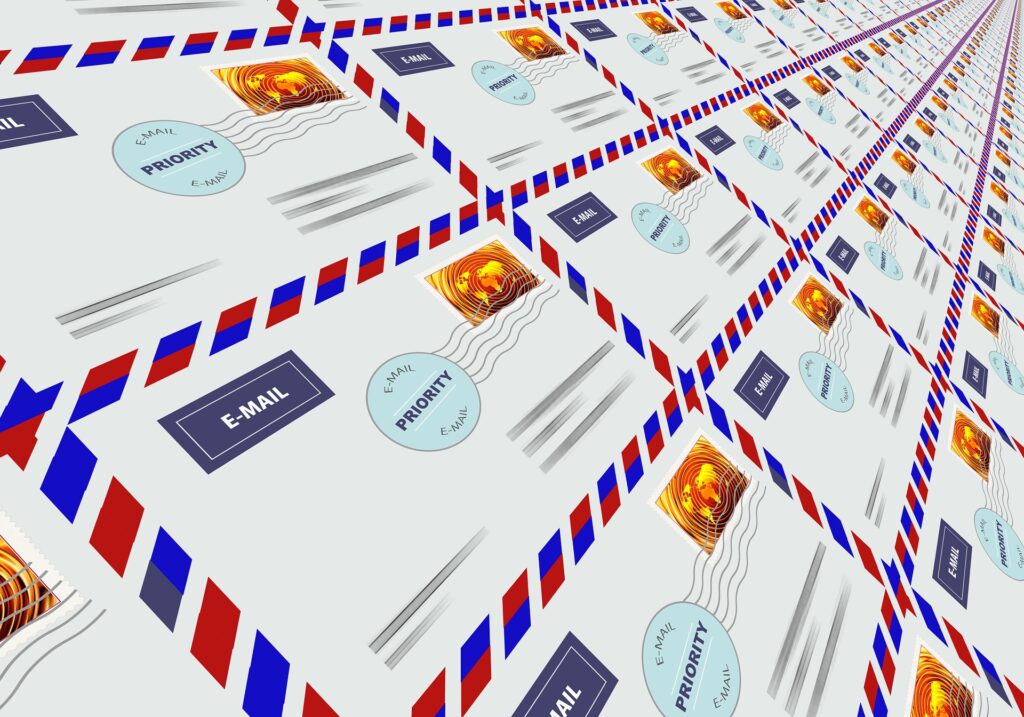 Professional WordPress email delivery is only possible if the DNS of the sender domain is configured perfectly.
This not only affects your WordPress website, but also your desktop email software (Outlook, Thunderbird etc.) – if the domain is not perfectly configured in the DNS, all your emails are at risk of spam because the receiving mail server may not trust you!
Nowadays DNS parameters such as SPF ("which servers are allowed to send for a domain"), DMARC ("what to do if a third-party server is sending without permission") and DKIM ("digital signature of each email") must be configured correctly so that all receiving mail servers (Gmail, Yahoo etc.) trust the sender!
Thanks to integrated Campation SmartDNS™ technology, DNS configuration becomes so easy that any child can do it!
Your DNS Records Are Like A Globally Approved Email Travel Passport -
They Build Trust With Any Receiving Mail Server And Make Your Emails Being Welcome!


Make GMail & Friends Your Best Partners !
Of course, the spam rating of an email depends on its content – you are responsible for this yourself, no WordPress plugin can do this. A properly configured DNS is also a basic requirement so that your WordPress emails are not treated as spam.
So that your emails are actually delivered and do not end up in the spam folder, it takes even more than the above! The reputation of your sender domain and your mail server is crucial for receiving mail servers like Gmail or Yahoo to take your emails seriously!
But what does reputation depend on?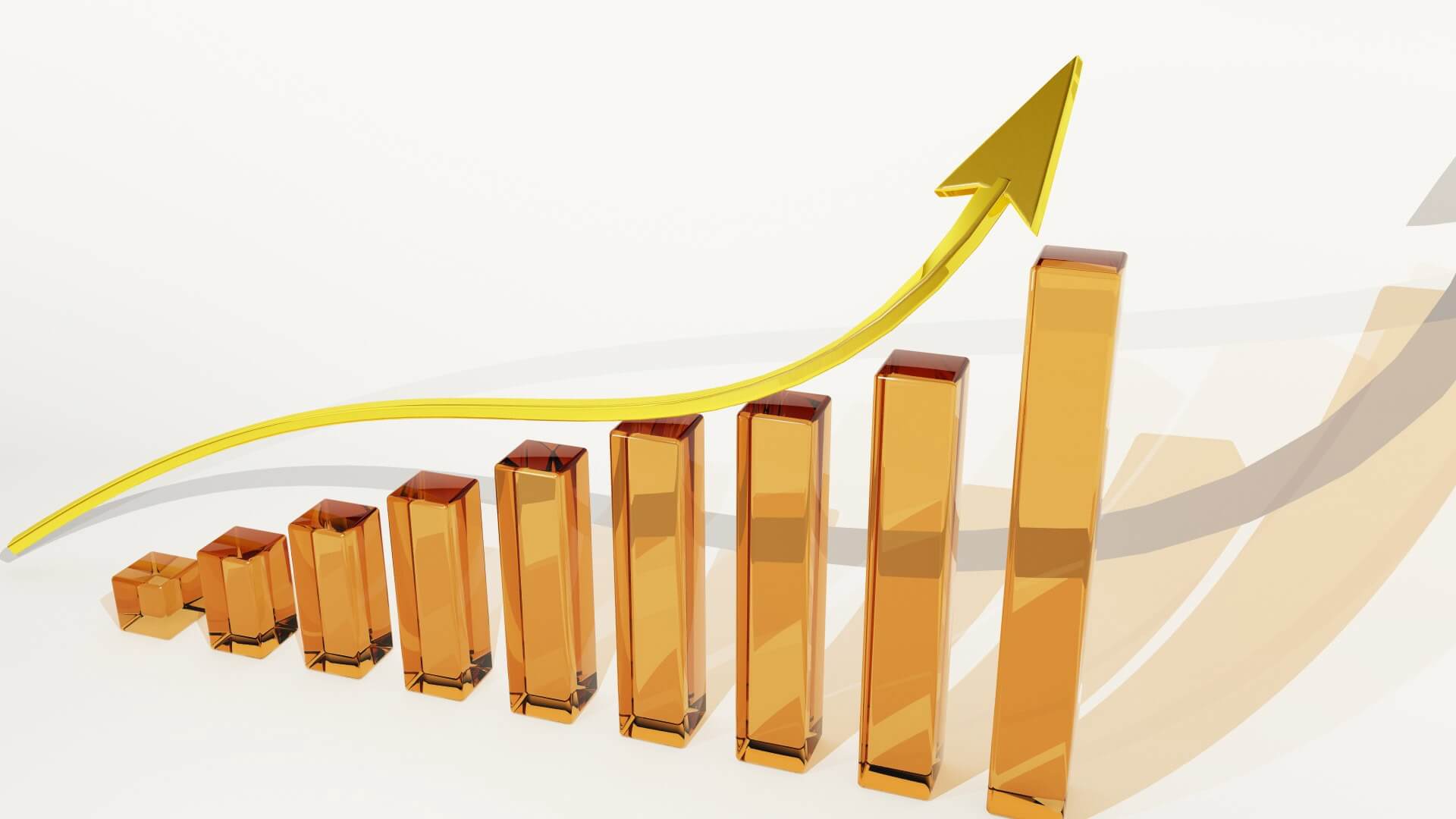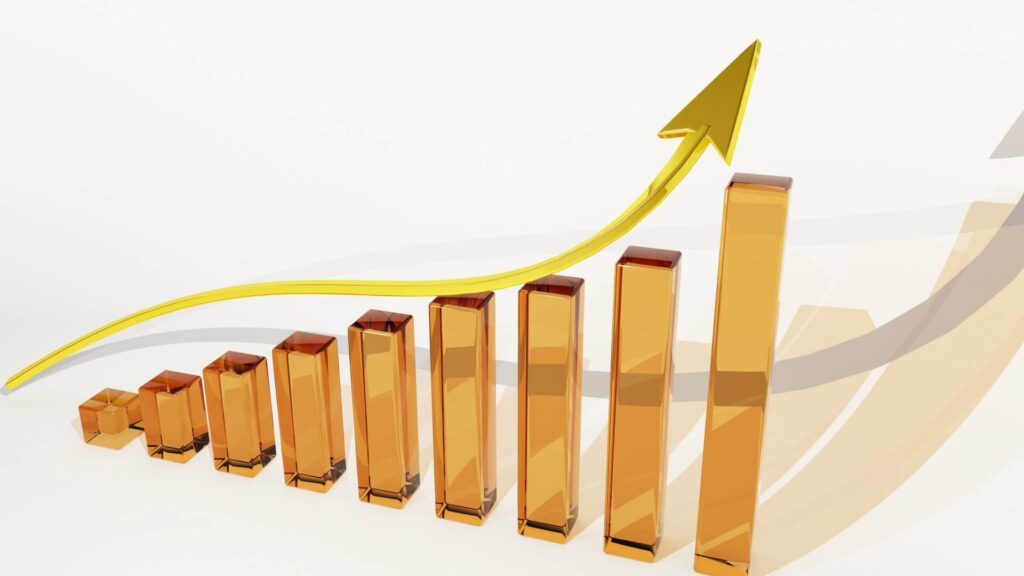 In short: that your subscribers measurably appreciate your emails and that you don't behave like a spammer disturbing with masses of scrap!
This is measured by GMail & friends, and they are exchanging their reputation data of any domain and server!
The more emails have a correct recipient, are opened and even clicked, the higher your reputation! On the other hand, the more emails are undeliverable, marked as spam or not opened, the worse. And if you bombard an email service like GMail with 100,000 emails from a new domain, you're acting like a spammer.
This is understandable as GMail & friends prefer to only receive emails that are relevant to their customers, your subscribers. All the other email traffic only costs a lot of infrastructure and disturbs their customers.
Campation PostOffice™ has a variety of functions to protect your reputation and to continuously improve it!
Your Reputation And Your "Good Name" Are Important For Email Deliverability
Invest Everything To Become A Good Sender !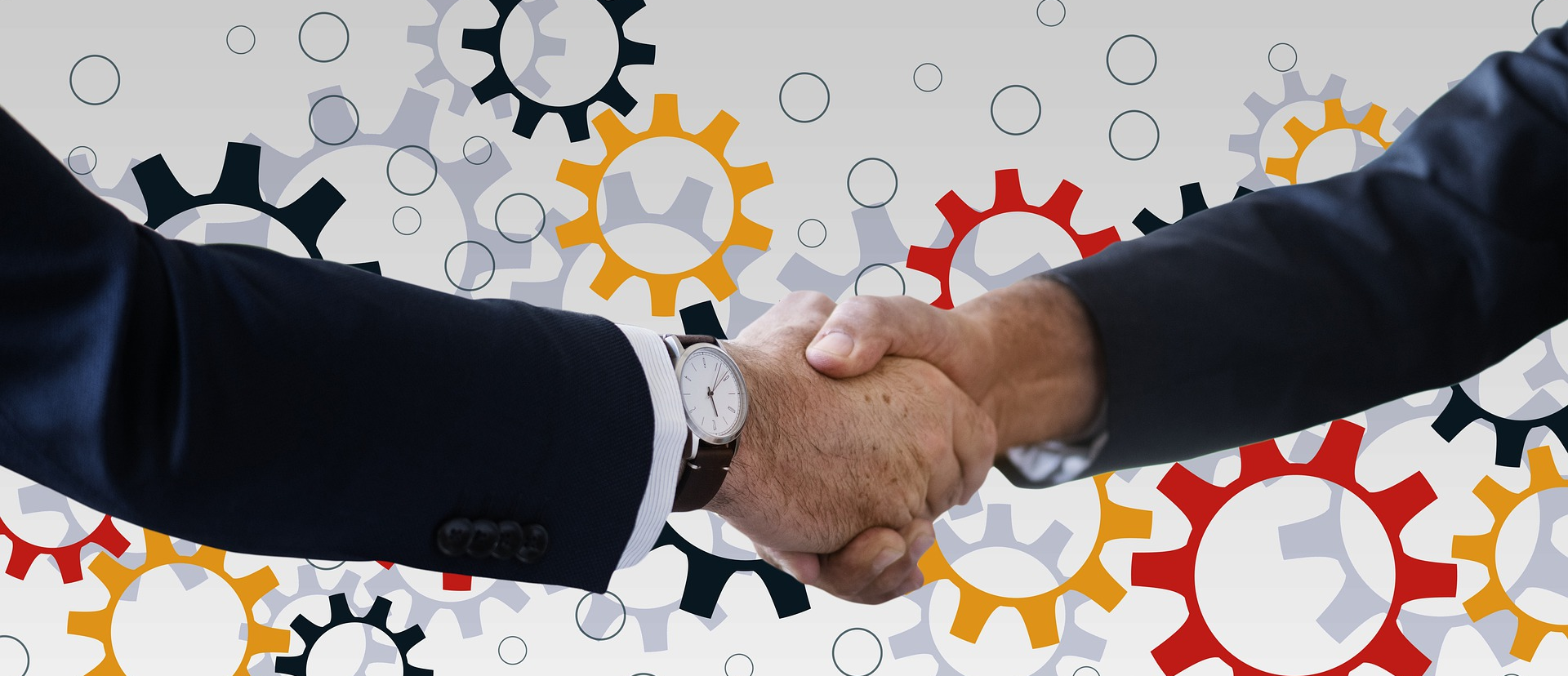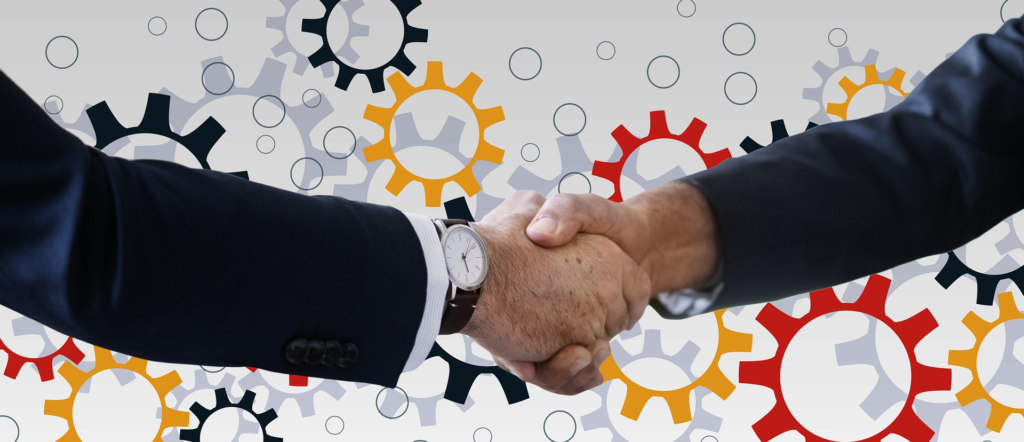 Boost Your Subscribers' Engagement
Make Them Love, Open and Click Your Messages !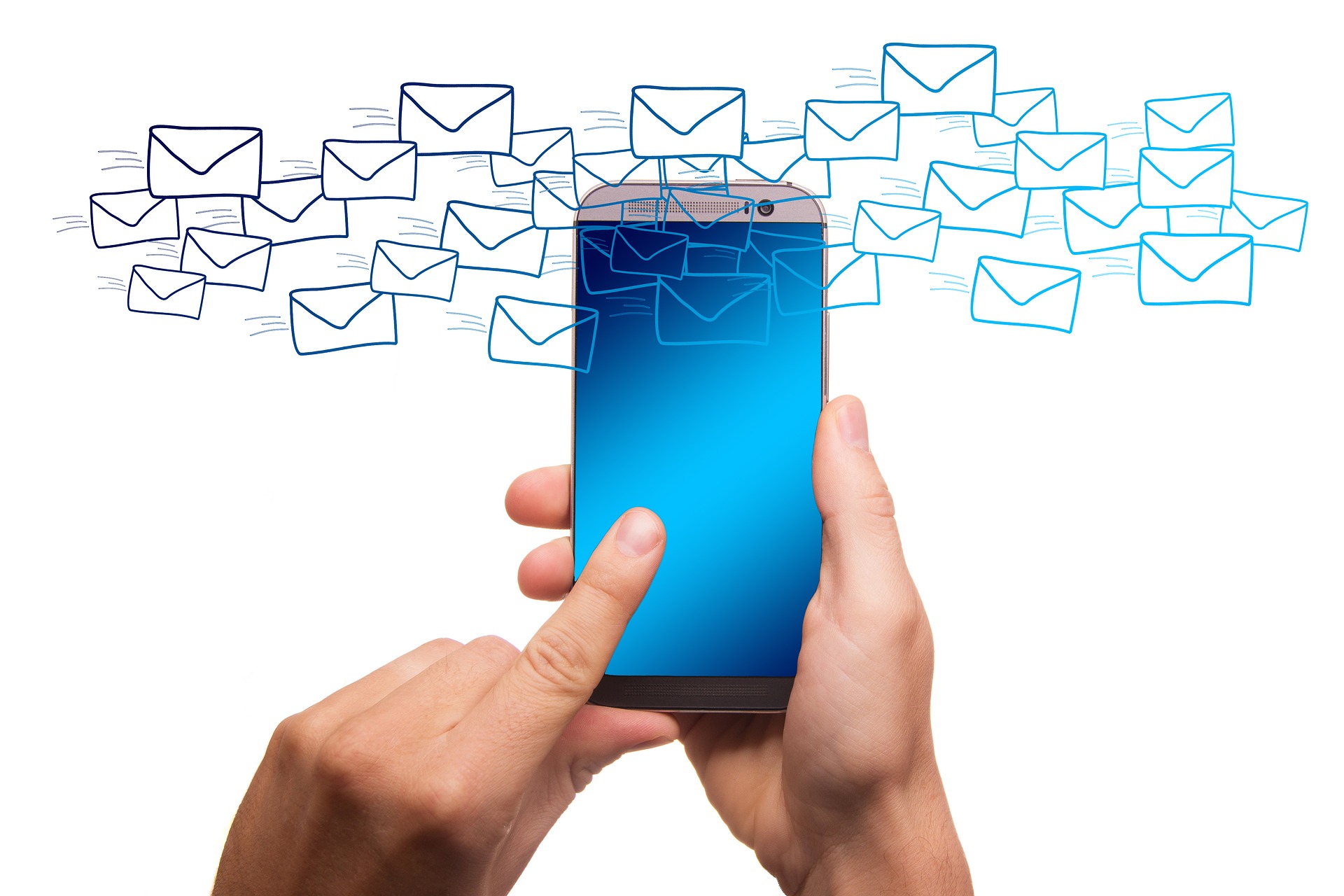 Your subscribers receive a lot of emails. They react to the content you send – but also to other aspects of your WordPress email delivery!
Does the email arrive at the right moment? Does it have an easy unsubscribe option? Do you only send to engaged subscribers who have recently reacted to emails from you (open / click)? Are the email addresses on your list really valid or have they expired?
Is your bounce rate below 1.5%? Are at least 40% of all emails opened and 5% clicked? Is your unsubscribe rate below 0.1%?
If not, you probably have too many incorrect email addresses and too many unresponsive people in your list – which you should stop contacting! All of this affects the success statistics of your email sending, which greatly affects your reputation!
Let Campation PostOffice™ run its automatic management of unsubscriptions and bounces – this saves a lot of your time and cleans your lists continuosly (unsubscribed / bounced addresses are blocked against further contacting. Even if your newsletter plugin sends an email to them such email will not be delivered).
Let the Campation InaGuard™ technology exclude inactive subscribers from your mailings (except transactional) that did not open / click your last XX emails in the last XX days and obviously are no more interested without letting you know.
Let Campation MailSchedule™ do the time management and follow your rules when to send your emails (e.g. only during business hours, not on weekends, except transactional mails).
And let Campation IntelliMail™ and its artificial intelligence (AI) machine learn when a subscriber usually opens his email – your emails always will be sent "@ best time" !
These features will raise your subscribers' engagement dramatically under the eyes of GMail & Friends – and be a great contribution to your sender reputation!
Stop Emailing To Undeliverable And Uninterested Subscribers
Send Your Messages Only To The Right People @ Best Time !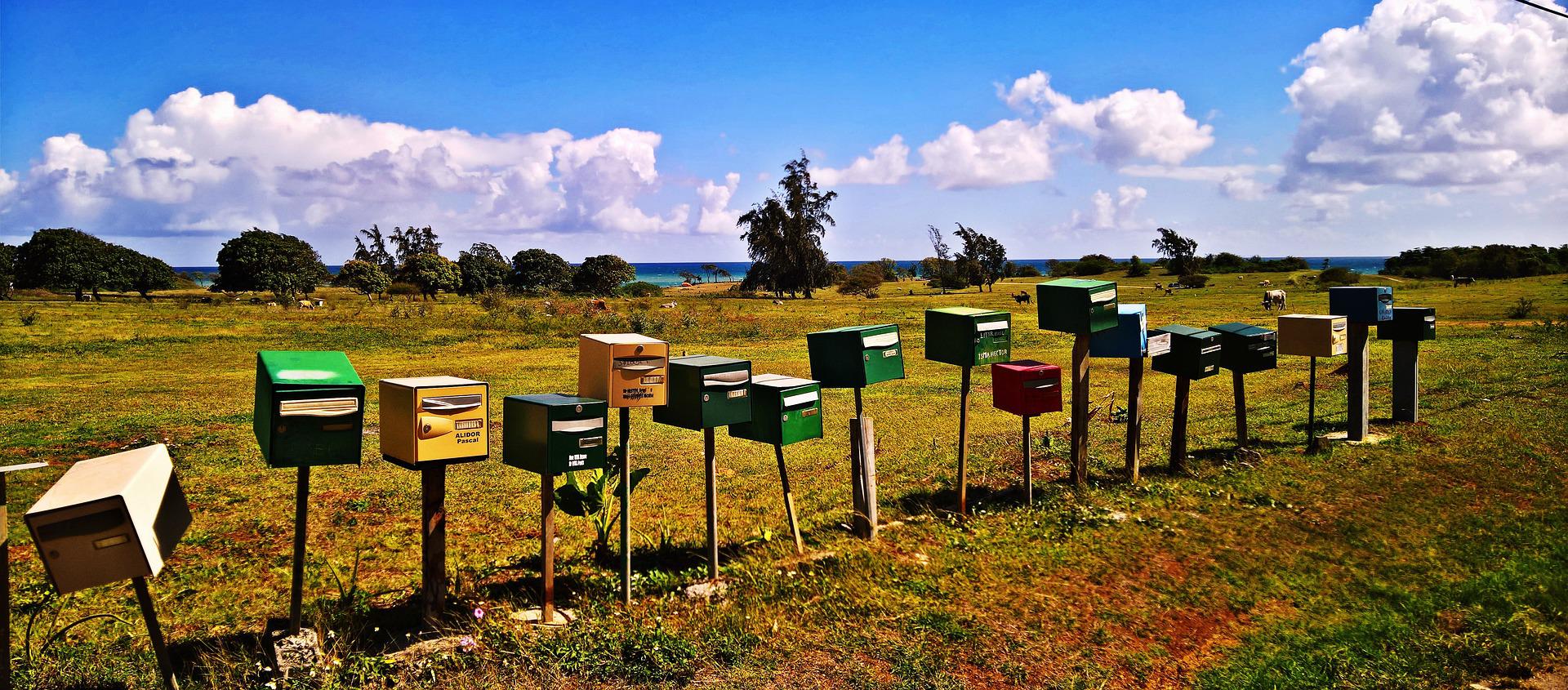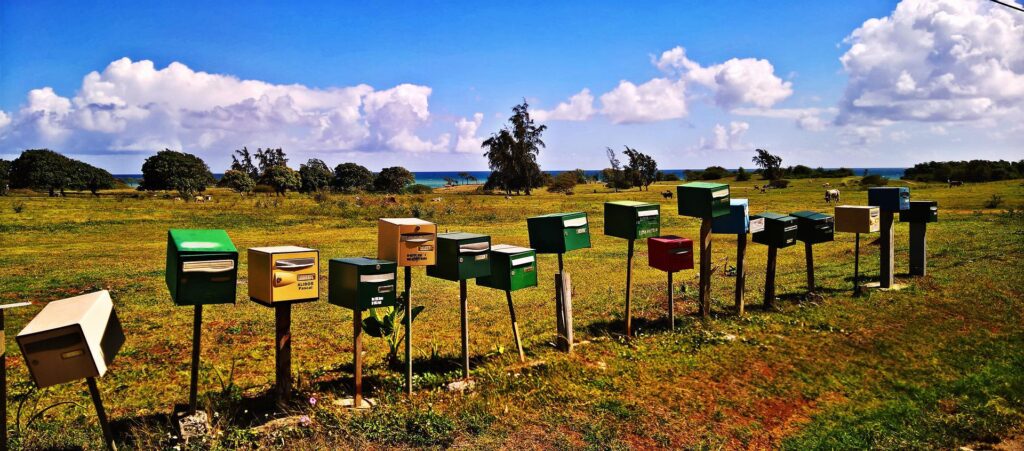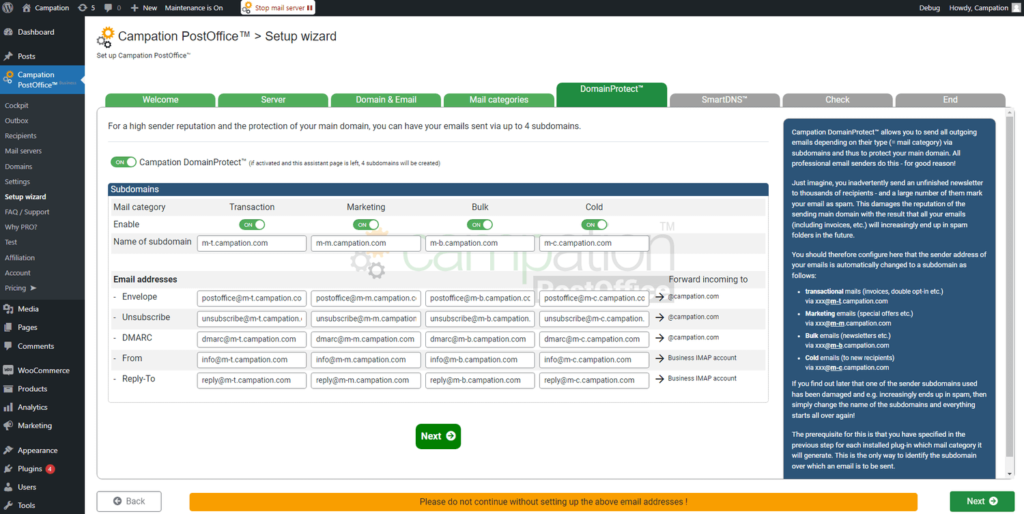 Setup Wizard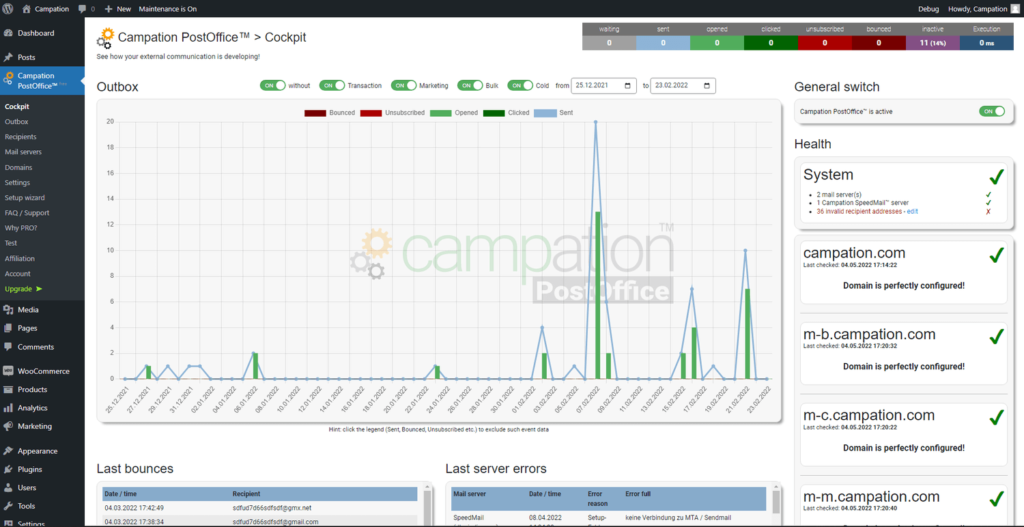 Cockpit / Dashboard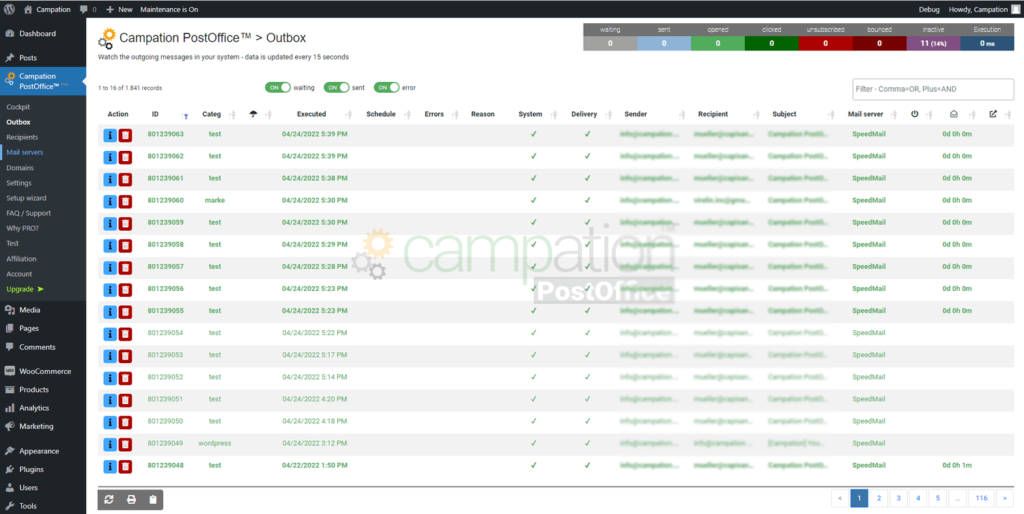 Outbox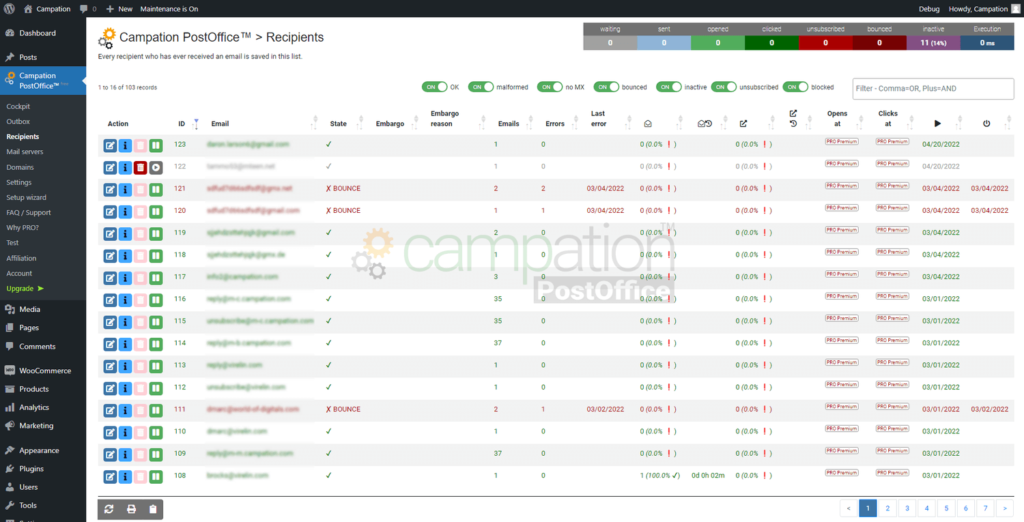 Recipients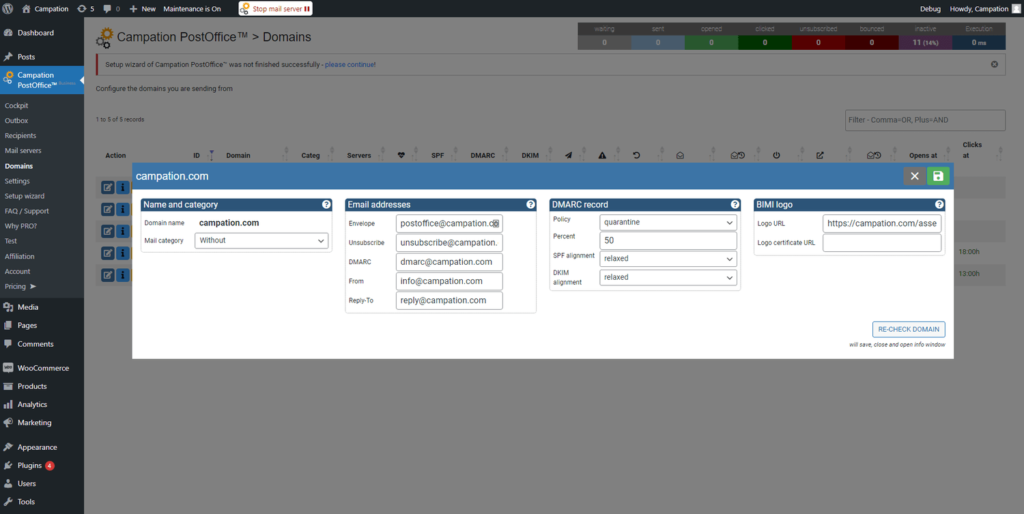 Domains
Configuration
Send UNLIMITED Emails 100% FREE - Forever!
Frequently Asked Questions (FAQ)
Understand Everything Before You Purchase !
The Campation Marketing Suite
Add-On Plugins Coming Next
Campation PostOffice™ in the near future will be enhanced by the following add-on plugins that integrate seamlessly – stay tuned!

Are you missing an effective autoresponder for WordPress, a software that sends your subscribers a series of emails at variable intervals?
Campation Responder™ allows you to create and automatically send in the background
a welcome queue with any number of emails (starting with subscription)
a weekday queue with any number of emails (a new email every Saturday at 10:00)
anniversary greetings email
any number of one-time newsletters (each on a fixed, planned date)
The software guarantees that any email only can be sent once to a subscriber.
It includes a WYSIWYG editor for your templates and emails as well as an import function for your existing email lists.

Do you have a list of cold prospects that you want to be most successfully converted into warm leads by WordPress?
Campation FirstContact™ is designed exactly for this task! How does it work?
create an HTML email in the integrated WYSIWYG editor in 3 variants
Campation FirstContact™ sends these 3 variants to 200 prospects each – the opening / click rate is measured nd the most successful variant is determined
repeat this split test several times with other variants – until you have 4-6 well-functioning emails
Campation FirstContact™ sends the first variant to the entire list – recipients who have opened your email are marked as "done" –everyone else will receive the next variant after several days – maybe it will work this time?
all variants are used until the last prospect has noticed your email 

Campation Journey™ – a combination of marketing funnel and autoresponder – allows you to create "customer journeys" of unlimited complexity out of forms, pages, emails and rules via "drag 'n drop":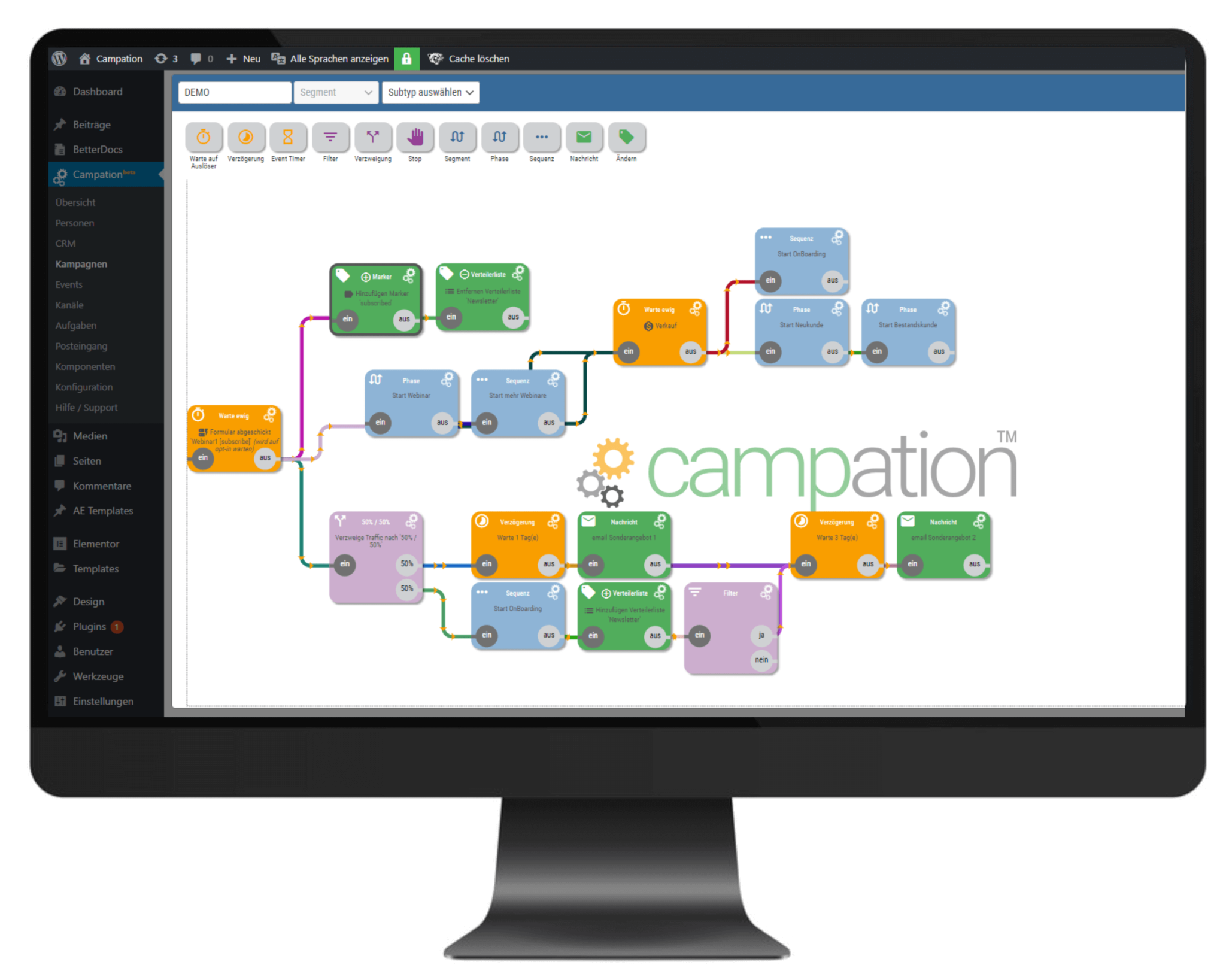 Starting with an event like "subscription", your lead embarks on a journey that you have precisely defined.
He receives email series – depending on his reaction, his path will branch out –  his "guide" waits at certain points and if he doesn't arrive, he picks him up again
his journey can be branched with logical conditions ("Ladies to the right, Gents to the left")
At every crossroads and fork, the success is statistically measured